Prestige Apartments News Blog
Bringing you the latest news about our serviced apartments and other accommodation, Ocean Village and other areas we have property in, news about Southampton and Hampshire that might be of interest to guests, and relevant news regarding property rental and lets.
DATE: July 2017
The Ocean Rooms: OCEAN VILLAGE NEWS
Hot on the heels of the Maritimo Lounge opening, we're pleased to let you know about another great addition to Ocean Village; this time its The Ocean Rooms, a swish new beauty salon. They're offering a huge range of beauty services, everything from massage and manicures, to laser treatments, tanning and hair removal – they even offer dedicated treatments for men! Their luxurious, ultra-modern salon is in the Blake Building on Admirals Quay; and we're delighted to now have a beauty salon on our doorstep that we can recommend to our guests in apartments in Ocean Village.
[PHOTO LEFT: ©Prestige Apartments Southampton]
DATE: June 2017
The Maritimo Lounge: OCEAN VILLAGE NEWS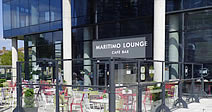 Introducing the Maritimo Lounge, a new cafe bar in Southampton Marina, now fully open and a very welcome addition to the Marina eateries. We, at Prestige Apartments, have tried and tested the Maritimo Lounge and would fully recommend our clients try the cafe bar when looking for good food and evening entertainment. Maritimo Lounge, is in Moresby Tower, right on the harbour; and the bar is packed with reference to the SS France (the longest ship built in the C20th) which sailed from Southampton to New York. They've even managed to source some of the ship's light fittings and used them in the Lounge! From time to time watch this space where we'll advise of forthcoming new venues in the Ocean Village Marina area.
[PHOTO RIGHT: ©Prestige Apartments Southampton]
DATE: May 2017
Tips on picking a serviced apartment for business travel: PROPERTY NEWS
A large proportion of Prestige Apartment's rentals are to business travellers, or are temporary corporate lets for staff visiting the Southampton area – this useful article discusses the various things they, or their business travel managers, should consider before booking a serviced apartment. Looking at things like minimum stays, business discounts, the facilities in the local area, insurance cover and safety checks. And speaking of discounts – we, at Prestige Apartments, are always happy to discuss discounts with our business clients, just ask what's available – be it for bulk bookings, long stays, or regular contracts.

DATE: April 2017
Ocean Village History: SOUTHAMPTON NEWS
A lot of the accommodation we rent out can be found in the prestigious Ocean Village Marina Area of Southampton. It's a lovely area to live, with modern apartment accommodation, shops, bars, cafes, restaurants, a cinema and the marina itself – but it hasn't always been like that. Back in 1986 it was a rundown area of old warehouses and sheds that had formed Southampton's Princess Marina Docks. We recently came across an article detailing the history of Southampton's Ocean Village and how the waterfront development has grown to become one of the most attractive areas of the the city; certainly a great place to spend some time. Read the full article here.
[PHOTO RIGHT: Photo © Peter Facey (cc-by-sa/2.0), showing part of Ocean Village Marina in 2007, the blue hoardings show part of Admirals Quay while being redeveloped.]
DATE: February 2017
Photos of our Ocean Village Serviced Apartments: PRESTIGE APARTMENTS NEWS

We're adding new photos to the gallery at the moment! Have you seen our gallery of images from our Ocean Village Southampton apartments? – take a look here. With Prestige Apartments, what you see is what you really do get, we guarantee that the photos we use on our website are of our actual apartments (unlike other accommodation sites which often use generic picture agency shots!).

DATE: January 2017
Prestige Apartments on Facebook: PRESTIGE APARTMENTS NEWS
We've now got a Facebook page! Come and have a look; the Prestige Apartments Facebook page is where we'll post the very latest news about the company, the newest photos and videos of our Ocean Village Apartments, the latest apartment offers and deals; as well as details of things going on in Ocean Village and Southampton in general. The panoramic views we've just added of some of the apartments will help you get a real feel for them and allow you to take a more in-depth look around.
So we invite you to please visit the Facebook page; 'Like' it, comment on the posts and add your own photos. A 'Like' will also mean you'll see posts carrying discount deals and special offers on our lettings.


DATE: January 2017
Go-ahead on medieval walls plan: SOUTHAMPTON NEWS
The Southampton medieval walls plan has been given the go-ahead by local planning authorities. The plans include the building of over 150 flats and apartments, student accommodation and shops in the East Street/Queensway area. The plans also include a boulevard featuring the medieval town walls, which date back to 1180. Currently about half the walls, several towers and six gates are still standing, which makes them some of the most complete medieval town walls in the UK. The council reported that the scheme was "a unique opportunity to open up the town walls and provide a significantly enhanced setting". The work on this scheme might start this autumn, with the development expected to take two years.
[PHOTO LEFT: Medieval Merchant's House in Southampton ©Leimenide (flickr)]
DATE: November/December 2016
Southampton Christmas Festival : SOUTHAMPTON NEWS
It's that time of year and the free Southampton Christmas Festival will be taking place at Above Bar pedestrian precinct between Saturday 12th Nov and Friday 23rd Dec 2016. It's going to include a traditional German Market featuring unique, individually designed alpine-style chalets selling traditional German fayre (from bratwurst and waffles to candied fruit and gingerbread). The market will include over 40 independent stallholders offering a range of hand-made, authentic gifts which include wooden toys, jewellery, basket-work, soaps, lamps and traditional Christmas decorations. There will also be daily entertainment, including the Incredible Flying Santa and musicians performing every day. Full details can be found on the Xmas in Southampton Facebook page.


DATE: November 2016
WestQuay Watermark: SOUTHAMPTON NEWS
Southampton paper, The Southern Daily Echo, are offering an exclusive look inside the new WestQuay Watermark development as it nears completion – it's a chance to see the work in progress on this £85million leisure centre which will soon be throwing open its doors to provide a 10-screen luxury cinema, over 20 eating places and a new high quality public plaza. There are plans for shops, cafes, restaurants, a hotel and housing to flank the plaza, which overlooks the dramatic medieval town walls. Click the image on the left to see the photos on the Daily Echo website.


DATE: October 2016
Southampton Airport award: SOUTHAMPTON NEWS
Well done to Southampton Airport which has just been awarded the ERA (European Regions Airline Association) Airport of the Year award. ERA Director General, Simon McNamara, said: "Southampton Airport, the winner of this year's Airport of the Year award, has demonstrated extraordinary involvement with the local community, linking up with schools, introducing a new assistance desk and a seating area for passengers with reduced mobility and reducing its carbon footprint, while at the same time growing and expanding in a highly competitive market. What a great achievement – huge congratulations to Managing Director David Lees and the whole team at Southampton Airport."


DATE: September 2016
Waterside properties in the UK: RELOCATION NEWS
Of interest to our tenants sorting out a Southampton relocation, an interesting article in Property Reporter discusses waterside housing in the UK, reporting that many people are prepared to pay a premium of up to a third more for this sort of property. If you are staying in one of our Marina properties while you look for your dream home you will probably appreciate the appeal, but where should you look and what sort of waterside should you aim for? Full story here.


DATE: July/August 2016
Marwell's Zany Zebras Art Trail: SOUTHAMPTON NEWS
Now for a bit of fun! From the 16th July until the 25th September watch out for zebras on the streets of Southampton! Marwell's Zany Zebras will be galloping through the streets creating a family-friendly, fun Art Trail. The trail has been devised by the same Marwell Wildlife team who created the successful 2013 Go! Rhinos. In the wild there are less than 3,000 Grevy's zebra left so Marwell's Zany Zebras is using Grevy's zebra sculptures to highlight the plight of the species. After the event, these will be auctioned to raise funds to help conserve endangered Grevy's zebras and to support communities in northern Kenya. Follow the trail map to find the 150 sculptures dotted around the city (or the 47 miniature zebras located at Marwell Zoo).
[PHOTO LEFT: The Zany Zebras are here, 2016 ©Mike Beales (flickr)]


DATE: June 2016
News, developments & plans: PRESTIGE APARTMENTS NEWS
At Prestige Apartments we're now concentrating on Marina apartments and now have most of the very special ones, those with full harbour views. We're also pleased to announce that we'll soon have a new one bedroom apartment in Sapphire Court, which is on Ocean Way – a side of the Marina we have not ventured into before. Photos of the apartment will be coming shortly. We're pleased to see that the development of West Quay Shopping Centre is well on its way and look forward to the new businesses this will encourage to Southampton. Once the extended West Quay has opened we'll be offering special 3-day deals for serious shoppers, so watch this space!
[PHOTO LEFT: West Quay extension, February 25th, 2016 ©Alex Liivet (flickr)]

See the News Blog Archive for earlier items